There Will Be a Past, Aline Cateux (Bridges of Herzegovina 2.0)
The morning of the 1st of January 2017 was an extremely sunny beginning of the day with an extremely heavy hangover and a terrifying cold. The winter's blue sky of Mostar was an invitation to get out for coffee and have a healing walk in the city.  Before going for a walk and most of all for a coffee in the Old City I went on Titova to throw the trashes. My street was directly giving on the chess club freshly renovated if not for an idiot who sprayed a graffiti on the freshly painted new façade. The trash containers were on the left, walked up to them threw my trashes and as I was leaving, a plaque on the façade of the ruin behind the container caught my eyes. "Radnički Dom".

I couldn't believe I had finally found it. Radnički Dom. The mystery building I couldn't locate. I have no idea why it had been so difficult to find it. I passed by it hundreds of times, never saw the ruin, never recorded it in my retina. Never so the plaque. I immediately started to walk around the building. I was talking to it. "Here you are ! I looked for you for so long !". I don't know exactly how long I walk around it, I tried to record every square centimeter of the facades, the streets north and south of it, the windows or at least what was left of it.  I was asking myself if the building had been altered since its construction. I examined the door, the roof was gone in an mysterious arson 5 years before. As kept walking around it, my hands nonchalantly touched the façade. As I was looking up at the 1st floor windows, I tried to imagine the inside of the building, the rooms, the stairs, the inside atmosphere. I wanted to put my ears on the façade to catch echoes of past discussions, meetings, declarations. I was intrigued by this impulse of listening to the walls, to the concrete, the bricks, the stones. But this is what I wanted to do, stick one ear to the wall of the ruin and listen.
I stayed a long moment scrutinizing the building. As I was going to leave the premises I noticed bullets holes in the southern façade. Someone had painted flowers around the impacts. I understood the intent but I was irritated by the hippy shape and the horrible colors of the intervention. It made me roll my eyes.
I almost arrived back at the corner of the building and noticed a bullet hole surrounded by little pieces of concrete detaching from the wall and ready to fall out. The sight of the pieces of the façade ready to detach put me into some kind of panic. "What if it falls ? " as if it was going to change anything to the overall state of Radnički Dom, obviously abandoned and waiting to be destroyed. The sight of these pieces of façade in equilibrium between the façade and the emptiness was unbearable. I thought first to push the concrete pieces back into place but they obviously wouldn't stay put. My only option was to collect it which I also hesitated to do because I was not sure I had the right to do so. Could I collect this piece of a building ? Could I take this pieces of the façade of Radnički Dom without disrespecting the building? I was striken by how solemn the moment seemed to me when I collected these pieces and put them into a little plastic bag that I had in my pocket. I went back home and put a little piece of paper inside the bag on which I wrote : "Radnički Dom, 01/01/2017, southern facade".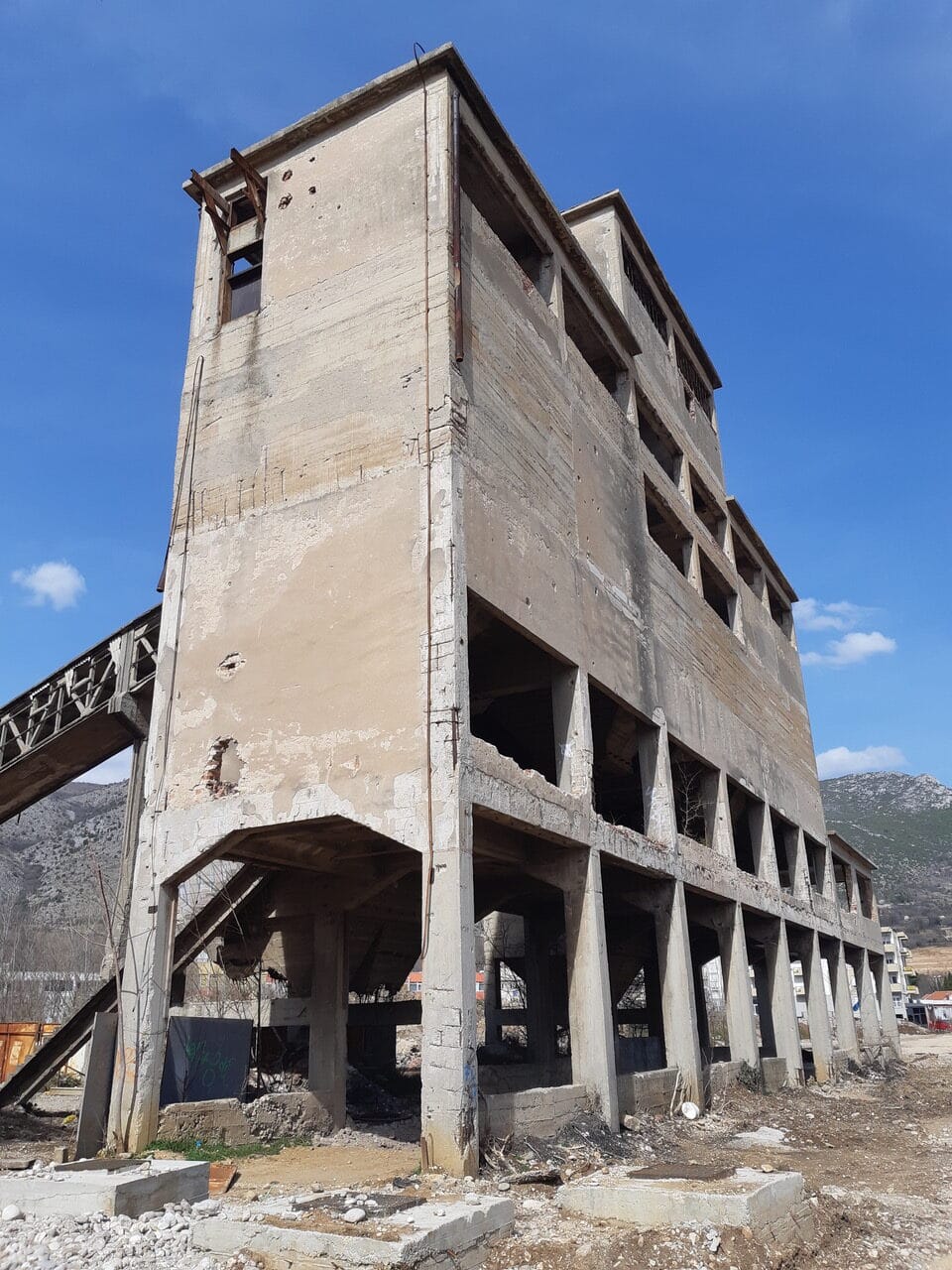 Samples, proves, relics
Some years later, the collection of samples had considerably grown. Radnički Dom, Rudnik, Žitopromet, Fabrika Duhana Mostar and so many other places that belonged to the Yugoslav era that was erased from the narrative established on Mostar after the war. No trace of the worker's city, of the industrial city was to be left in peace or imagined as an asset. One by one the concrete, stone and steel witnesses of this era, the experience of socialism were fading, being degraded, destroyed, abandoned. Crucial landmarks of Mostar were pulverized into dust, dismantled, taking with them not only a part of the landscape but also the proof people had ever worked there. Most of all these infrastructures were destroyed and replaced with nothing creating a specific emptiness in the city, a never ending absence that nothing would console. Little by little, my samples of Mostar were becoming proves of this past. These little pieces of stone, concrete, plaster, covered by almost erased paint would one day become everything that was left from the walls that had sheltered unions, strikes, working shifts, meetings, collectivity. All things dismembered by the end of socialism, war and capitalism. They were samples, proves and would end up as relics.
As I was looking at the little plastic bags containing the pieces of concrete, I was indeed starting to understand that they were going to become pieces of archeology. Future piece of an erased past, pieces that might be later analyzed, scanned, dissected. What traces of the past this samples could hold ? How materials are impacted by the vibration of a meeting ? A virulent talk ? The sounds of a factory? Is this inscribed somewhere in the microscopic universe of dust ? Maybe there would later be a technology that could retrieve the past frequencies and the scars they left in the walls. Arguments, fights laughters all in one grain of sand solidified in concrete covered by a vanishing green paint hidden undera poster announcing the next meeting of the union. I was looking at the samples and every time was thinking of Bogdan Bogdanovic explaining how mostarians would come to the premises of what was to become Partizansko groblje with leftovers from their destroyed houses, big stones sometimes still bearing čuvar kuća on it, traces of paints or smoke from the oven or the fireplace. It was for him very moving and was giving him a huge responsibility of what he was going to transform them into, burying these little traces of life of Mostar into one place as he explained several times.
Anticipation of disappearance
Now that I had collected those samples, I had the responsibility of preserving them and make sure they would always be ready to be displayed and prove that there had been a past. Stones in time of amnesia. Hints of erased memories.
It was never clear to me what would disappear next in Mostar? Or should I say, what would disappear next of Mostar. Sometimes, a building would be destroyed relieving mostariens from the sight of a ruin but also erasing forever what was left from before. I had different conversations with mostariens about their very ambivalent relations to the ruins as on one side, emotional markers, reminders of the violence that they wished would be demolished, on the other hand some affection for the ruins was also very often expressed as they would still stand and be touched and looked at, a solid proof that the past had existed. Some said they'd rather live with some ruins than see them go by fear of forgetting how they looked like before. Exactly as when you try to remember the face of a loved one who died long time ago and of whom you don't have a picture.
Collecting these samples was firstly a coping mechanism against the anxiety of disappearance of what I considered important landmarks. Getting these fragments was like saying : "nobody can ever say this didn't stand at that place !".  Each time I was collecting a fragment, an already known emotion was crawling up from my stomach, an emotion I knew but couldn't name.  The, one day, walking Tito bridge, I automatically looked at what used to be the Tito villa and which is now an ugly and kitsch commercial center. And then I remembered, this powerlessness feeling at the disappearance of something precious in the landscape : the cutting of the massive tree in the garden of the villa, the dozens of people assembled to look at this giant being cut and dismantled. I remembered the faces of the people, the sorrow and the outrage and I realized how much in 15 years or so I had never got used to the emptiness left by the absence of the tree. The night after it was cut, a friend went to the back of the villa, stole a branch of the tree and carve wood rings from it. I have one of them still to this day, like a little sample of the past garden. There was a tree, there was a building, there was a city.
---
Realizaciju projekta Mostovi Hercegovine podržao EUNIC BiH: Ambasada Italije, Nizozemske i Slovenije, Austrijski kulturni forum Sarajevo, Goethe Institut, Institut francais, EU Info Centar u BiH i British Council.
EUNIC – European Union National Institutes for Culture (Nacionalni instituti kulture Evropske Unije) je evropska mreža organizacija koje se bave kulturnim odnosima. Zajedno sa svojim partnerima u više od 90 zemalja svijeta i sa mrežom od preko 120 EUNIC clustera oživljava evropsku saradnju na polju kulture, oslanjajući se na veliko iskustvo svojih članica iz svih država članica EU i pridruženih zemalja.