Intro
I have had the pleasure of participating in Mostovi Hercegovine, an (online) educational-media project organized by OKC Abrašević and its affiliate radio station, AbrašRadio. Based in Mostar, this youth/cultural center operates as an active network that brings together NGOs, Mostar residents, informal groups, and individuals who are keen to research topics that interest them, while also exploring the many wonders of Herzegovina. Articles and projects cover everything from history, botany, geography and architecture; to poetry, politics, sport and geography. As I was thinking about how to represent Arslanagić Bridge in an artistic or stylized manner, I kept in mind the discussion of concepts that our mentor and adviser, Senada Demirović-Habibija, shared during one webinar, where she showed us a Venn diagram and the interrelatedness between people, space, activities, and time, all of which were described as key factors or indicators that are needed in order to create cultural "routes/paths." At the heart of the diagram, where everything overlaps, is experience (see screenshot below).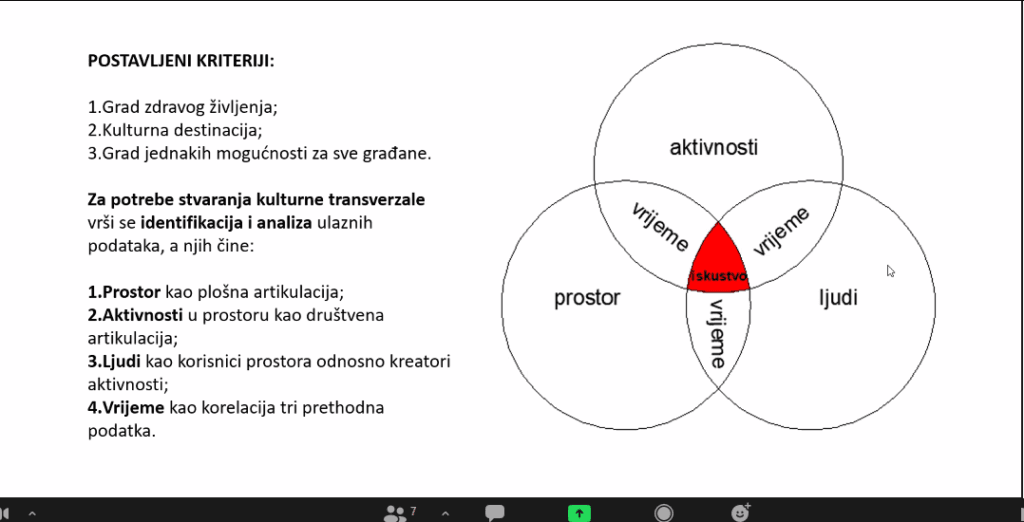 I've written a bit about the bridge here while keeping these parameters and concepts in mind:
SPACE: I would say that when we talk about space, or the physical space that Arslanagić Bridge occupies, the word idyllic comes to mind – it is surrounded by quiet hills and spans the Trebišnjica River. This structure has always been at home on this beautiful river, and when the entire bridge was dismantled, moved and reassembled back in the late 1960s and early 1970s, the preservation project allowed it to continue to serve its purpose in situ (i.e., on the river).
PEOPLE & ACTIVITIES: This elegant bridge has always been a symbolic feature of Herzegovina, whether in its original spot in Arslanagića Most Selo (Arslanagić Bridge Village) or at its current location, where it connects the neighborhoods of Gradina and Police in Trebinje. It was fashioned from stones that are found throughout Trebinje's rugged terrain; the blocks were shaped by the elements and by the hands that toiled in putting them all together (on two occasions!). When the bridge was still in Arslanagić Bridge Village, it was used by local farmers when transporting their locally produced wheat and corn, and was important for the movement of goods, including salt from Herceg Novi. The bridge was also a major crossing point for people moving between lands lying far to the east (Istanbul, and further afield from there) and our neighbors to the south, on the Adriatic.
TIME: Arslanagić Bridge has certainly witnessed a lot over the centuries (and if only it had the ability to tell us some stories!). In its own way, Trebinje has been shaped by time, tribes, empires, kingdoms, states, trade routes; as well as wind, sun and the elements, the mingling of many cultures and religions… And such influences are reflected in the town's diverse architecture.
EXPERIENCE: Bridges are often seen as structures that join and connect geographical/geological features or span physical distances, and this bridge allowed for the movement of foods, raw materials, natural resources, hand-crafted goods; as well as armies, laborers, travelers, and those who helped transmit intangible heritage between different lands. Bridges can span enormous distances, bodies of water, chasms, or stretches of land. They also offer new perspectives, and our interactions with such structures – as well as with the places they take us – give rise to new experiences.
A storied past
There are several stories and theories about who actually built Arslanagić Bridge. One dates from the Turkish period, when the bridge was supposedly commissioned during the second half of the 16th century (in 1573/74/75) as part of an endowment set up by Mehmed Pasha Sokolović, an Ottoman vizier who also provided funds for the construction of his famous namesake bridge in Višegrad. Sokolović had the bridge built near Trebinje to honor his son, who fell during a battle with Venice. Other records state, however, that this bridge was washed away in a flood in 1580, but there are discrepancies over the facts surrounding the description and location of a bridge (or bridges) described in various travelogues. Another account has the bridge being built between 1669 and 1684, a period of relative peace between two wars fought in Herzegovina. If we look back to the Ottoman period, the majority of ruling authorities in this part of Herzegovina chose to reside in Herceg Novi, rather than in Trebinje. However, once the Venetians ousted them from the coastal areas, they withdrew to Trebinje. This exodus saw one Arslan Aga come to Trebinje sometime in the late 17th century, when he received some land to the east of Trebinje and gained permission from the sultan that he and his descendants could collect tolls on a bridge that was already standing. So Arslan Aga built a small guard/toll house (which remained intact until the Austro-Hungarian period), and the entire structure was later named after him, as was the village in the surrounding area. However, some believe that, since the bridge was already there when he came, it must have been the Romans or Greeks who built it, so there seems to be some dispute about its actual origins (again!). Regardless, the bridge continued to stand erect for many centuries after that, but was damaged in subsequent periods, especially when it was struck during the Second World War and later "patched up" in 1956.
The big move
Once plans had been made for the construction of a hydro-energy system and accumulation reservoir near Trebinje, studies conducted by scientists and experts from all over former Yugoslavia determined that Arslanagić Bridge would have to be moved in order to preserve it as a special historical monument. This decision also applied to Dobričevo Monastery, known for its impressive frescos and other important church holdings. The whole project required enormous logistical coordination, numerous interventions, and persistence. It was also a great example of collaboration between experts who were familiar with the old ways of building bridges and inspired individuals who were working for the protection of monuments. Two bridges had stood in the original Arslanagić Bridge Village before it was flooded for the hydroelectric project. One of the bridges is now submerged beneath the waters of Gorica Lake, and the other stands at its new address (Obala Mića Ljubibratića) in Trebinje. The village covered an area that was once home to the medieval town of Mičevac, making it an interesting historical spot in its own right. In the 1960s, the village had about 30 homes, and members of this multi-confessional community coexisted for hundreds of years, celebrating different religious holidays together, sharing water supplies/irrigation systems, and supporting one another as they farmed the fertile agricultural land that allowed them to enjoy the fruits of their labor (grain, corn, grapes, wine, figs, apricots, pomegranates…). The reservoir was test-filled in 1965, and Arslanagić Bridge was submerged until August 1966. Then, once the area was drained, the disassembly phase began that same month and was completed by mid-September of the same year. The second phase of the project began in April 1967 and included survey work, geo-investigative assessments, project revisions, etc. It wasn't until sometime in 1970 that the actual construction site for the bridge's new location in Gradina was opened and reassembly began, according to plans submitted by Energoinvest, a giant energy and engineering firm based in 5Sarajevo. During the two-year reconstruction phase, each of the slabs and blocks that had been labeled and then moved from the bridge's original location were put back into place on the new site.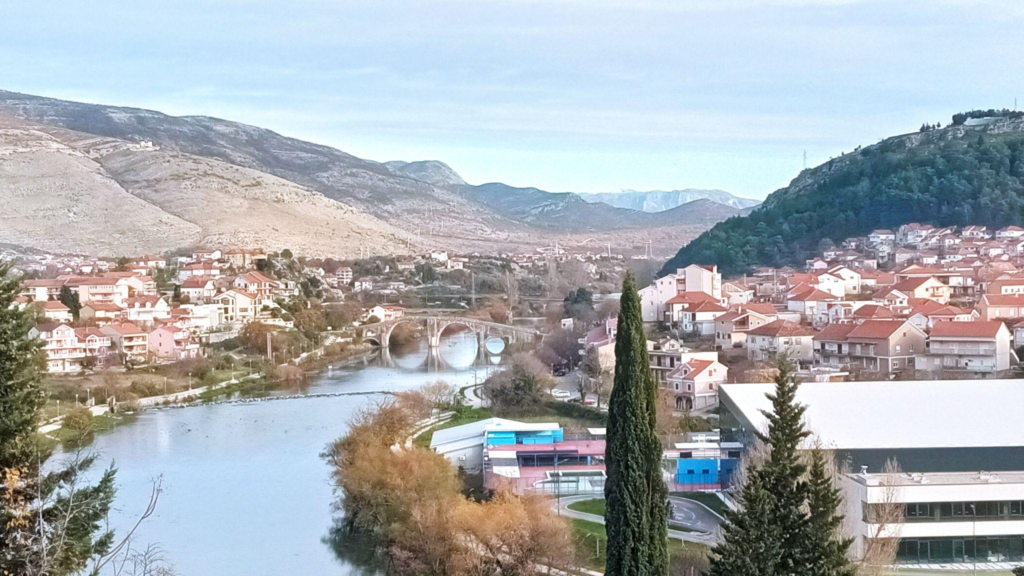 A bit about BiH's stone archways
It's worth highlighting the fact that BiH has plenty of lovely historical monuments, and bridges definitely figure into such a grouping. Arslanagić Bridge was included on the list of National Monuments of BiH in 2006, and I happen to think it's one of the prettiest bridges in the country. (That being said, the cute Kriva Ćuprija in Mostar has the perfect 6dimensions for what I would consider a "neighborhoody" bridge; it's small and is right in the heart of a quieter part of the old town.) 🙂 There are many other impressive bridges in BiH that are pleasing to the eye, for their own reasons – each one has its own character, and all of them are worth a visit! I've made up a short list of some other bridges that are located in Herzegovina: Kriva Ćuprija (Crooked Bridge) – Mostar Ovčiji Brod (Sheep Bridge) – Nevesinje Stari Most (Old Bridge) – Mostar Inat Ćuprija (Defiance or Spite Bridge) – Stolac Stari Most (Old Bridge) – Konjic
My bridge project
So now that we've spent some time with arched structures, and you've gotten to know Trebinje's famous bridge, I can share a bit about how I wanted to represent Arslanagić Bridge, albeit, in a smaller format! I have always been fascinated by sand paintings; from the intricate pieces created by Native Americans and sandwork from Africa, to the dazzling mandalas of Tibet and the kolam rice flour drawings of India. Since this was the kind of "medium" that appealed to me, I decided to try my hand at a seed and spice painting. Here's a list of the "raw materials" that were used: bridge = chia seeds greenery around the bridge = Vegeta Natur Mediteran, no MSG 🙂 wheat stalks = bread crumbs corn stalks = polenta and Vegeta Natur Mediteran 7sun = polenta and Kotanyi's spice mix for baked chicken
Back in the day, when I was in primary school, we would sometimes do artwork with various food items, like dried beans and peas, corn/popcorn kernels, and so on. We'd usually glue things onto paper or wood, but I didn't want to waste food items by glueing them to the baking paper I had decided to use as my "canvas." I started by making a rough sketch on the parchment paper, and then I dribbled or sprinkled the different ingredients in the right places. I used a playing card and another rounded piece of cardboard to help me "sculpt" the shapes I wanted. I certainly gained a new appreciation for arches! It was a fun process, and, even though the architectural potential of chia seeds pales in comparison to solid rock, it was great to see a version of the bridge take shape.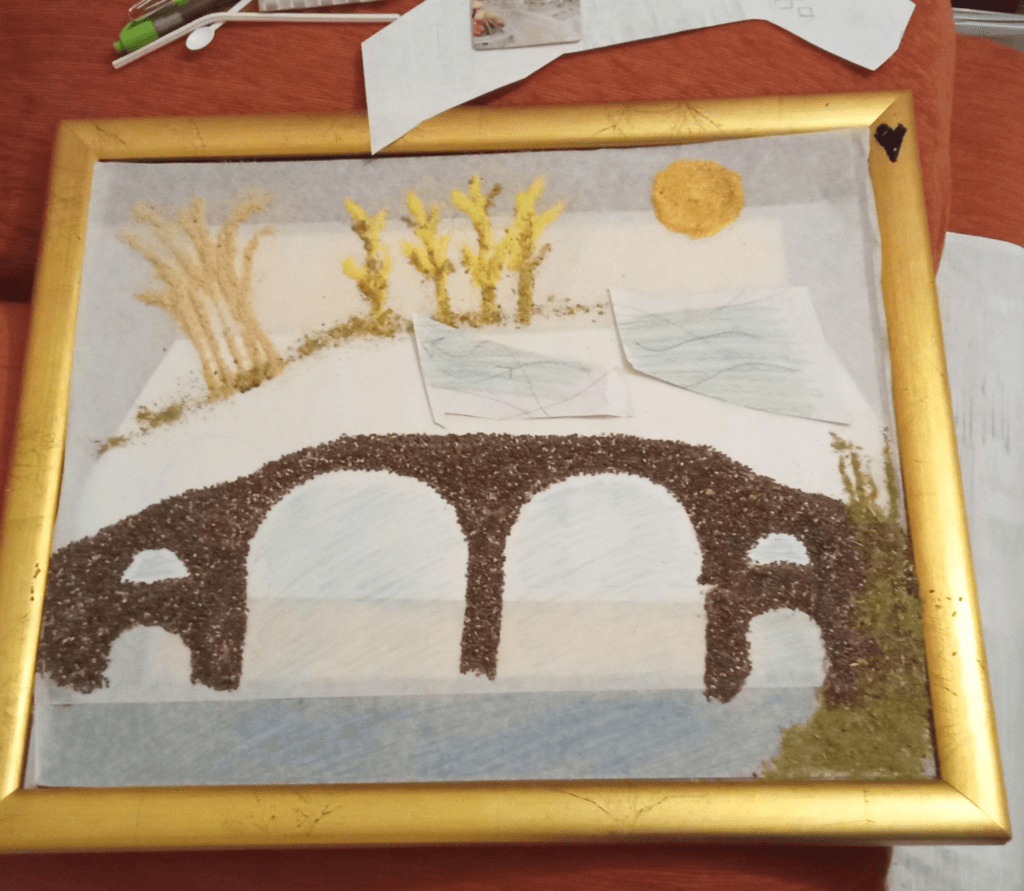 Basically, once I took some photos and felt that the bridge "painting" had served its purpose, I could gently lift up the parchment paper and pour everything into a jar to use as an interesting savory mix for future recipes. The paper was also clean enough to be reused as a drawer liner.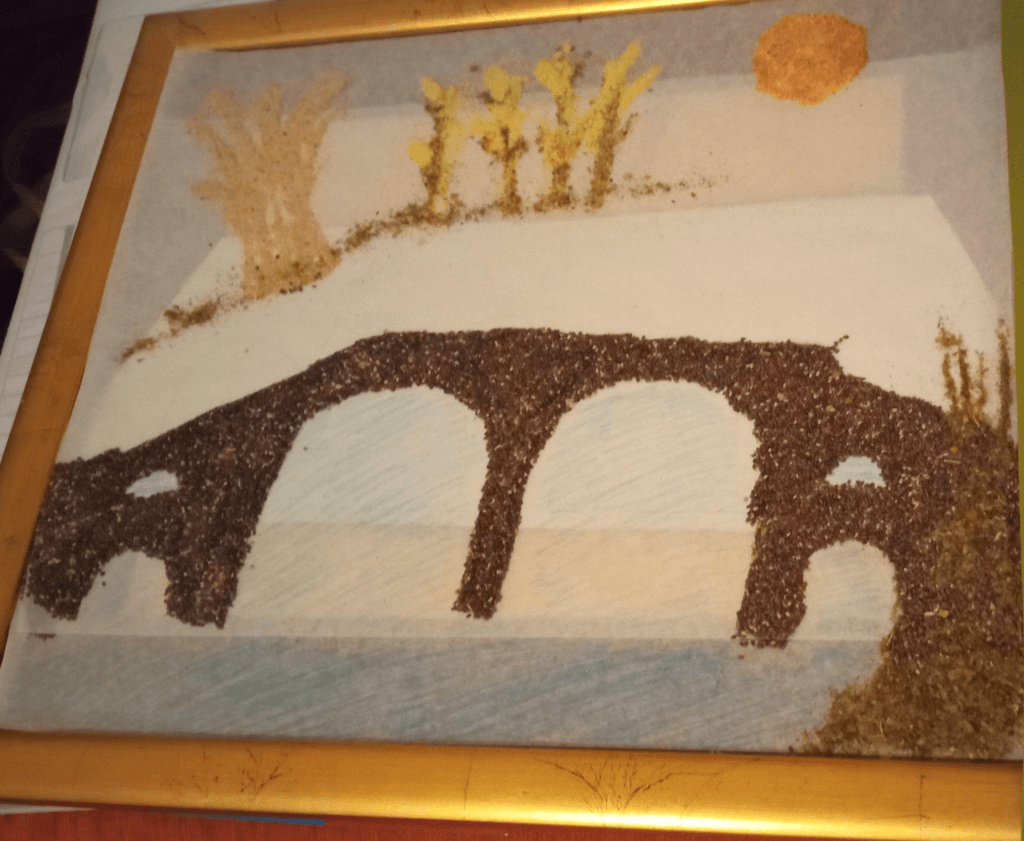 Once I had completed the bridge and was reading more about some of the lovely structures around this part of Herzegovina, I started doing some smaller sketches (perhaps for little spice paintings?), but then I found that I enjoyed doing the miniatures as separate pieces. I was also thinking about places along the Adriatic that I had visited, and felt it would be nice to represent some of the special features from two seaside towns that have also been a part of Trebinje's story. All of the drawings became more like a little collage piece.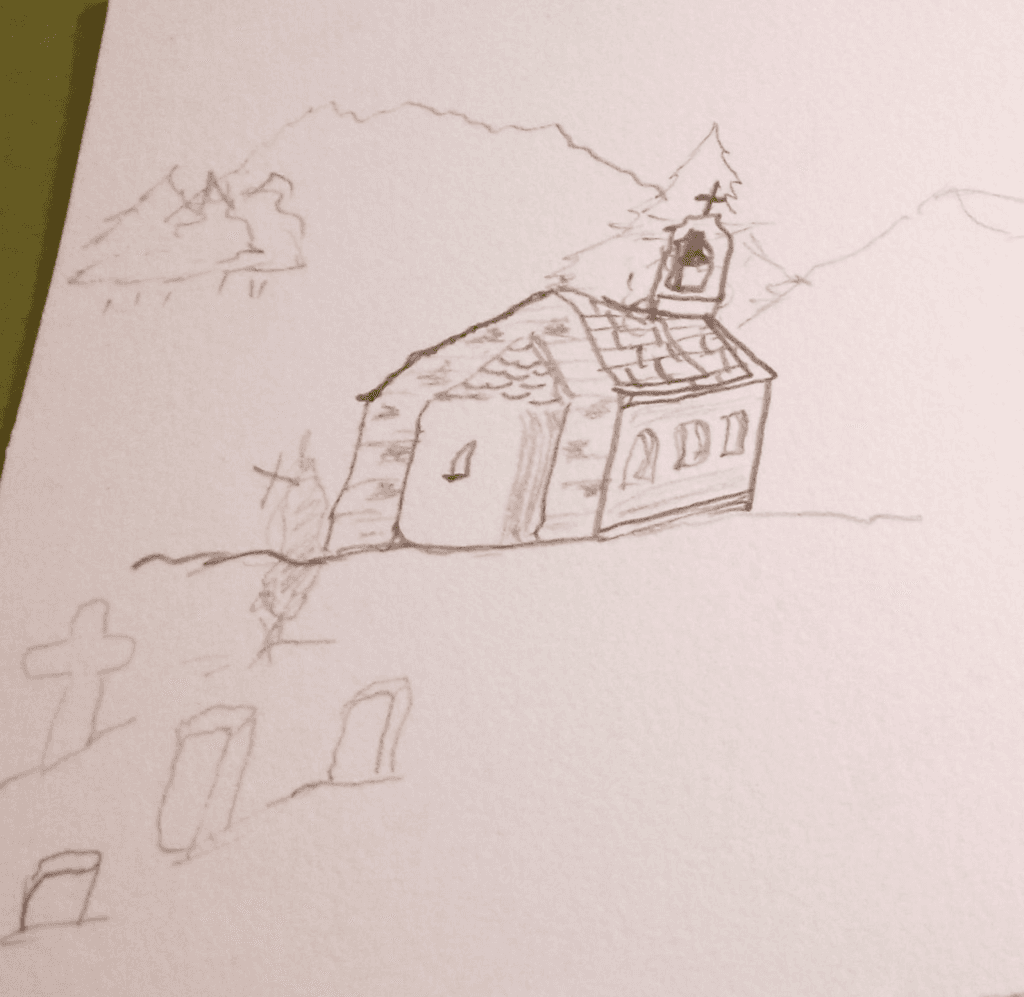 Some closing comments
I realize I didn't manage to take higher resolution photos of the bridge, and I deliberately left some imperfections, since I felt that the use of natural and simple materials reflected the idea of organic design. I also wanted to honor the fact that the bridge itself is a solid structure, but when one notices the lovely irregularities of the bridge's stone surfaces in contrast to its nine nearly perfect arches, I somehow felt like my rendition was simply an attempt to capture, however imperfectly, the personality of the bridge – a silent and gracious witness to the ways of men and nature. This bridge is a work of art that has been built (twice!), submerged, moved and reassembled. The blocks have been through a lot, and the very essence of stone and rock is the result of movement, heat, pressure, and natural forces that have been at work on this planet for eons, and they will continue to exert their own influence over everything we might erect and leave behind for future generations. All bridges will eventually be taken by the winds and sands of time, but they still manage to play important roles in our lives and spark our imaginations. Here's to merry crossings, wherever they may be!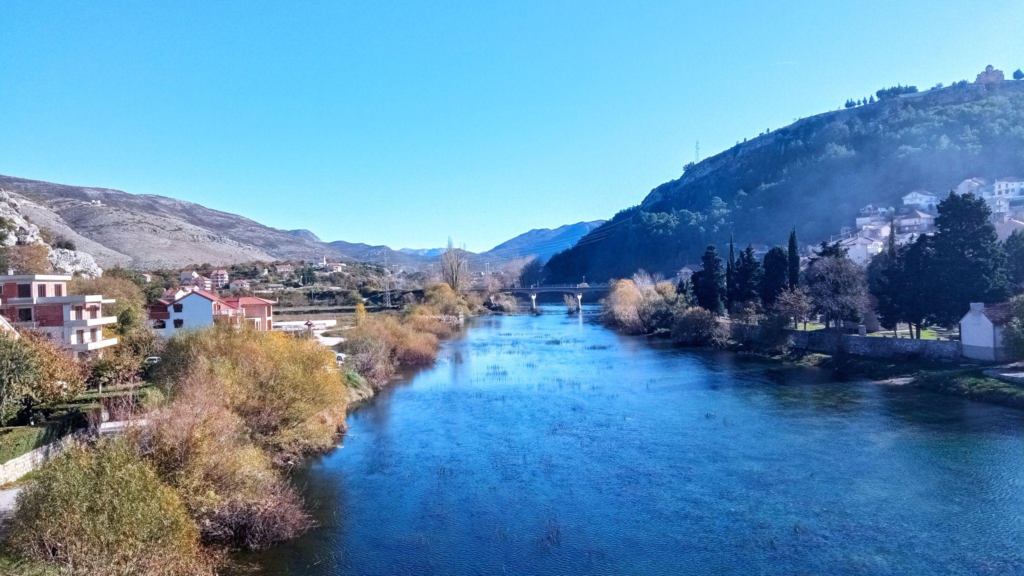 ---
Thanks go to:
Arslanagić Bridge – for serving as a source of inspiration for this project. May it stand well over the Trebišnjica and be bright for many centuries to come. 🙂 ; Senada Demirović-Habibija – for the support, encouragement and resources she provided to all of us along the way; Minja Pješčić – for telling me about Mostovi Hercegovine in the first place, and for her helpful input and suggestions at different junctures; Petar Milošević at the Museum of Herzegovina – for his help in providing resources from the museum's collection; The helpful staff at the National Library ▪ Trebinje – for help with locating some relevant materials.

References:
Grad Trebinje, Moj Grad (The City of Trebinje – Official Monograph), Center for Information and Education, City of Trebinje, Božo Morić (editor), 2020. Arslanagić Most – Trebinje, Povodom Prenošenja Mosta 1970-1972 godine, published by Hidroelektrane na Trebišnjici – Trebinje, Džemal Čelić (editor), Trebinje, 1972. http://platforma-kooperativa.org/bh/members/youth-cultural-centre-abrasevic/ https://www.abrasradio.info/
https://lokoportal.com/index.php/sadrzaj/vijesti/21572-pogledajte-emisiju-zapis-o-selu-ar slanagic-most-i-banjevci 15
Lisa Stewart, Mostovi Hercegovine 2.0
Sekcija: Arhitektura, urbanizam, ekologija
Mentorica: Senada Demirović-Habibija

(2021/2022)
---